Today I am starting a new segment for my blog: 10 things Monday.
Every Monday I will post a list of 10 things. I hope you come along and contribute to the lists.
10 things for crafters to buy at Op Shops
1. Clothes
Lets start with the obvious choice. Clothes. This is what most people go to op shops for. Whether you are in to vintage, quirky, or cheap designer you can usually pick up a bargain at an op shop. Indeed some shops really specilise in this area, even set themselves up like a new retail outlet.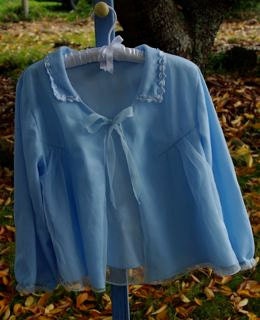 Clothes in op shops also provide an opportunity to upcycle, or seriously alter a piece, or provide great fabric for another project.
2. Picture frames
Op shops are a great place to find cheap picture frames. I have picked up a big pile of beautifully made silk screen frames, timber photo frames and even some antique metal frames.
These can cut down your costs in framing a piece of art work or work well as a frame for making embroidery.
3. Crockery
Mix and match crockery for a great look at the dining table. Simple white dinner plates really show off a collection of colourful entree plates or bowls. Throw in some quirky salt and pepper shakers and you have a great look.
Alternatively you can break up chipped plates and old saucers to make beautiful mosaics.
4. Furniture
If you are going to make mosaics you will need something to tile onto. Scour local op shops for interesting coffee tables, drinks trays or other small pieces of furniture. A new coat of paint and some beautiful mosaic work will give a boost to the most tired piece of furniture.
5. Doilies, serviettes and tea towels
My favourite! The beautiful handmade doilies I find at op shops get made into new bags for my DarlingBridget label. Although occasionally I find some that I can't part with and they go into my personal collection.
I collect souvenir tea towels which also get made into gorgeous bags.
6. Buttons
I personally find modern buttons really boring compared to vintage ones. I have a growing collection of vintage buttons that are pretty and colourful. I use these as accents to bags, journal covers and other sewing projects. Occassionally I even use them as buttons!
7. Fabric and notions
If you are into sewing there are endless treasures in op shops. Sometimes you'll find remnants of brand new fabric. I have a piece of corduroy in brown with yellow flowers: yikes! But often there are beautiful pieces of cotton or other nice fabrics. Then there are the clothes as mentioned above and tablecoths which can be used.
Vintage patterns galore can be found at op shops. If you want to use them you will need to check that all the pieces are there but otherwise the packets make great art to use in collages.
And then every type of notion from elastic to buckles, hooks and eyes, lace trims and more can be found very cheaply.
8. Books
Some of my favourite craft books have come from op shops. I have some excellent how to sew books, embroidery, gardening and of course my favourite 1977 Australian Women's Weekly biscuit and slice cookbook.
9. Jewellery
All sorts of jewellery can be picked up very cheaply from op shops. I have several 80s plastic bangles that I have bought, just wish I'd kept my own from back then! I have also bought vintage beads, brooches and clip on earrings. These can be worn as is or upcycled into new jewellery pieces or used in various art projects.
10. Over to you
What is your favourite thing to buy at an op shop?